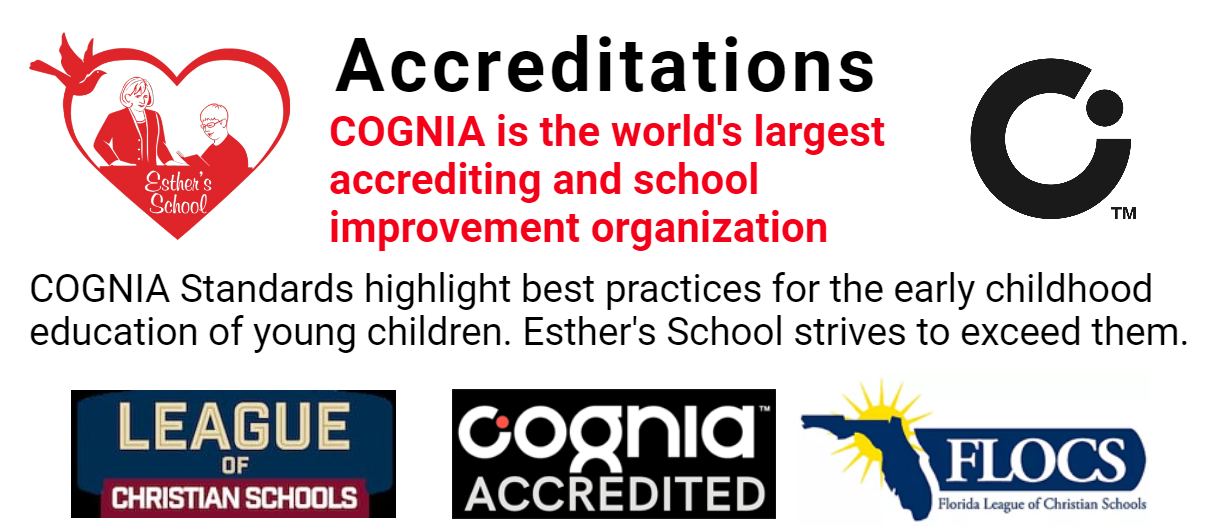 Esther's Schools (New Port Richey) is proud to be accredited by Cognia (formerly AdvancED). Cognia is the global leader in providing continuous improvement and accreditation services to over 32,000 institutions serving 20 million students worldwide. Using a set of rigorous research-based standards and evidence based criteria, Cognia examines the whole school – the policies, programs, practices, learning conditions and cultural context – to determine how well the parts work together to carry out the institution's vision and meet the needs of every learner.
We have not only met, but have exceeded the standards set forth by Cognia, which provides a comprehensive validation of Esther's Schools' high academic, ethical, and operational standards.
Additionally, Esther's Schools are co-accredited with the League of Christian Schools (LCS). Co-accreditation with the LCS illustrates Esther's Schools' ability to establish and maintain the highest standards and best practices for academics and curriculum, operations, compliance, and leadership.
Curriculum
Our school curriculum not only meets the state licensing requirements, it also offers a high degree of flexibility. With our all-inclusive approach to education, we provide age-specific curriculum components, which can also be individualized to meet the needs of students at varying stages of development. After all, we aim for the optimal development of every child.
All instructional staff at Esther's School has one of the following:
• Bachelor's Degree or higher
• Three or more years of K-12th grade teaching experience
• Specialized skills, knowledge or expertise that qualifies them to provide instruction in K-12 grade subjects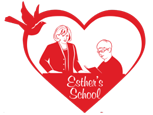 ACE Curriculum
An individualized learning plan through the ACE Curriculum Diagnostic testing Curriculum level that meets the child's needs Academic support for students.
click to open/close
Accelerated Christian Education
ACE's "core curriculum is an individualized, Biblically-based, character-building curriculum package" and is based on a series of workbooks called PACEs (Packets of Accelerated Christian Education). ACE's educational approach uses phonics to teach reading.
ACE has taken the conventional textbook and divided it into 12 workbooks per grade, called PACEs. A.C.E. math is therefore workbook-based and mastery-based, expecting children to learn concepts to mastery. ACE provides learning programs designed to be completed quickly, through short, intensive and rigorous phases of learning. Also referred to as bootcamps.
Learn More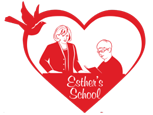 Ignitia Curriculum
Ignitia is a versatile online Christian curriculum and learning management system with dynamic, Christ-centered lessons and interactive features designed to serve teachers and students in elementary, middle, and high school.
click to open/close
Ignitia Curriculum
Ignitia is created to engage and inspire every type of student to learn and was developed using a variety of lesson formats. Every lesson, whether digital or print, is hand-crafted with precision to amplify student engagement.
INDIVIDUALIZED INSTRUCTION AND CUSTOMIZATION
OVER 40 YEARS OF DEVELOPMENT & EXPERIENCE
DYNAMIC CHRIST-CENTERED INTERACTIVE LESSONS & FEATURES
INTEGRATES CHRISTIAN WORLDVIEWS INTO EVERY SUBJECT
Begin Pre-Enrollment Online
Diploma Paths
We offer 5 different diploma paths for graduation, which allows Esther's School to meet all of our students diverse needs. Our staff will sit down and meet with both parent/guardian and their high school aged child to discuss the best option for them to meet their future (postsecondary) goals.
Special Diploma
Vocational Diploma
General High School Diploma
College Prep Diploma
Honors Diploma
Services
When interested in any of our additional services, please indicate this to your campus principal when scheduling your consultation or campus tour.
Transportation
Tutoring
One on One Aides
Therapy; ABA Behavioral therapy, Speech and Language Therapy, Occupational Therapy, and Physical Therapy.
*additional fees may apply